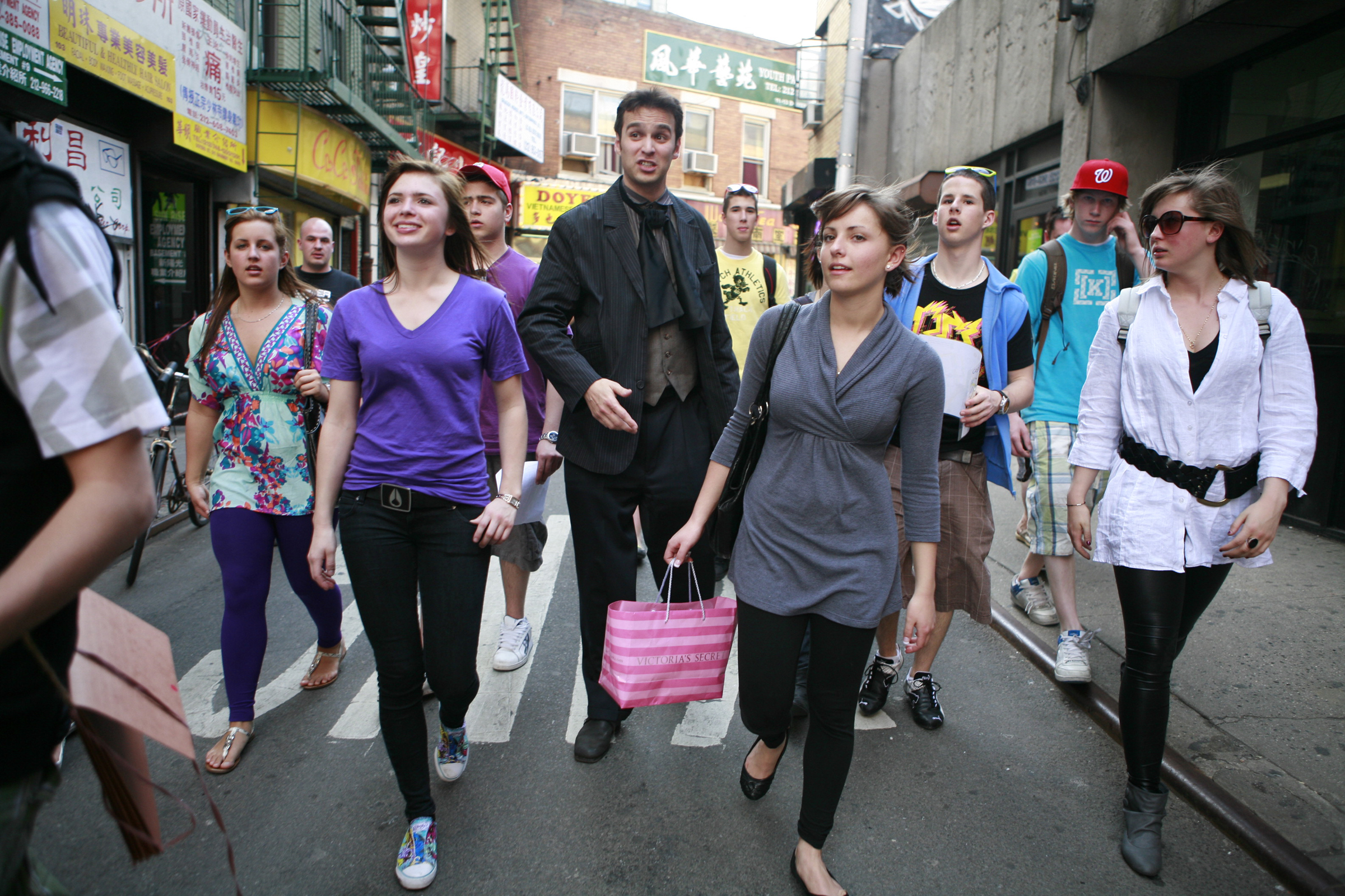 The perfect historical interactive mystery for your students!
Captivate your students with hilarious, moving, and topical mysteries while learning actual American history. Maximum engagement guaranteed!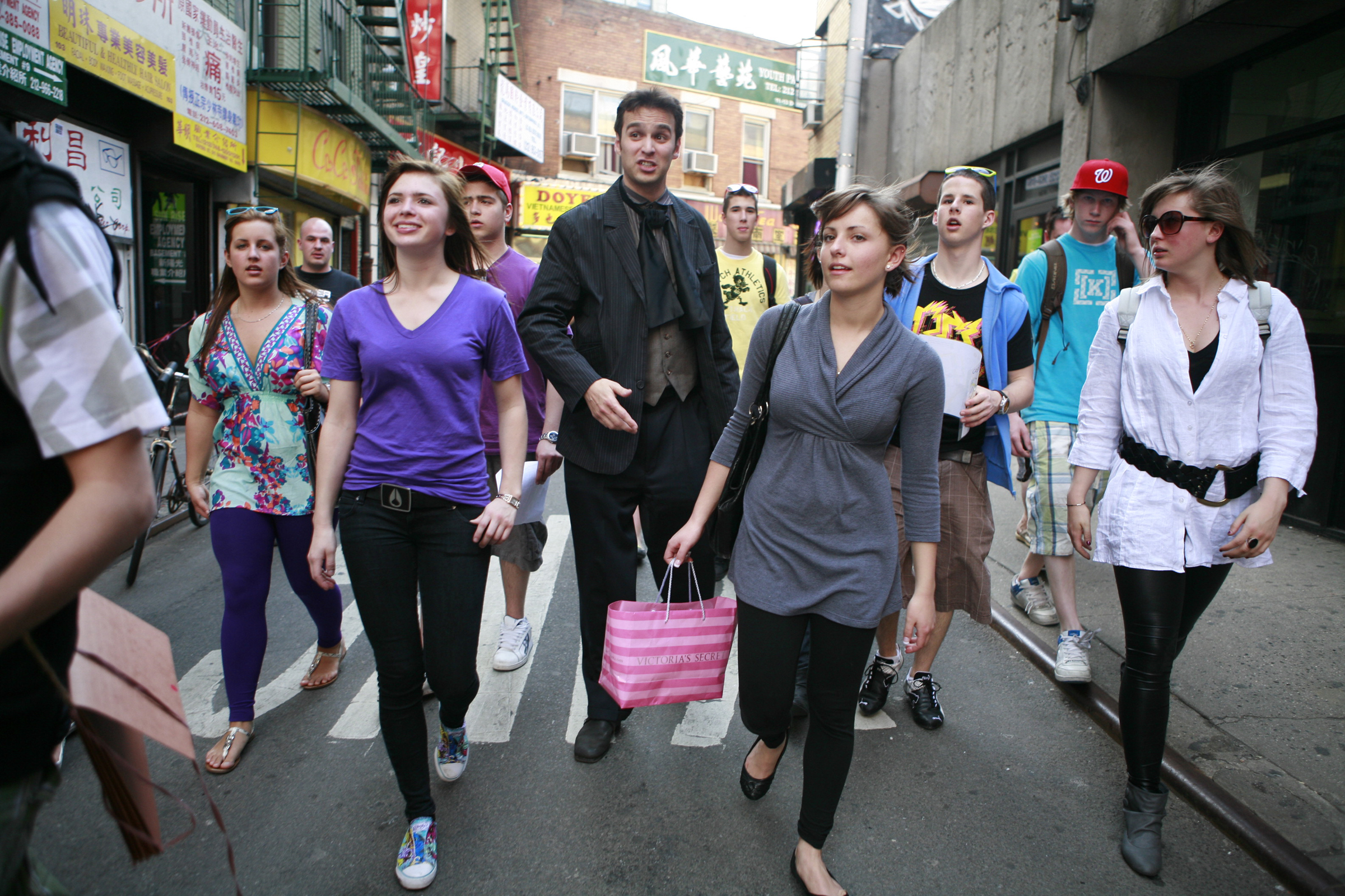 Late 19th Century New York was a town struggling to find its identity. Prepare for a scavenger hunt through the underbelly of the Five Points neighborhood, a densely populated, disease-ridden, crime-infested slum of international notoriety. Here you'll search for the truth, uncover clues, confront suspects, and valiantly battle to mete out the justice the Ryan siblings deserve.
The themes include – Triumph of good over evil, corruption, racism, vice, and the American melting pot.
Learning outcomes – Listening, improved memory, empathy, and deductive reasoning.
Mission Athena: SABOTAGED!
Students will join CIA Special Agent Brock Hammerhold as a crack security team to help expose a saboteur.
Your students will love our grounded, hilarious, and furiously compelling show. Our interactive actors will facilitate the experience and allow them to peel back the layers while uncovering fascinating little-known history from the 1960s.
Themes include – The cold war, the space race, and the Cuban missile crisis.
Learning outcomes – Listening, deductive reasoning, creative problem solving, improved memory.
The Trial of Typhoid Mary 1915
Our virtual trial experience looks at what was considered to be the worst things you could be in New York City in the early 1900s. An immigrant, an unmarried woman, and a Catholic. Mary Mallon, aka Typhoid Mary, was all of this and more.
Themes include – The value of justice, cold reasoning on facts over hysteria, anti-immigrant sentiment, and current-day politics.
Learning outcomes – Listening, deductive reasoning, creative problem solving, improved memory, public speaking, and respect for every human being.
Our virtual experience uses the hunt for a criminal mastermind to uncover fascinating little-known American history. Have your students dive deep into problem-solving in a way that will delight them while giving them an unusual position of asking questions instead of providing answers!
Themes include – Family dynamics and the nature of good versus evil. 
Learning outcomes – Listening, deductive reasoning, creative problem solving, improved memory, and public speaking.
"You learn a lot about the history of crime and the police, but you also learn much about the Orphan Trains, the railroads that carried some 30,000 New York orphans to the mid-west for years after the Civil War. Once again Live in Theater delivers!"
Alan Singeri
History Teacher
"I am writing to offer my enthusiastic recommendation of Live in Theater to any school seeking to offer its community a rewarding, unique learning experience bridging the gap between the classroom and the real world."
Yeou-Jey Hsu
Assistant Principal
"In my forty-seven-year experience as a teacher,  I have never experienced anything as engaging, memorable, and seamlessly put together as The Ryan Case 1873."
Jim Kliip
Social Studies Teacher
"Students who usually responded to anything school-related with frowns were grinning from side to side, and students who never spoke in class were suddenly engaged in intense discourse about everything from the motive of the murder to the economic panic of 1873!"
Allison Cyronac
History and Social Studies Teacher
"The Trail of Typhoid Mary was ingenious! In no time, students were discussing theories and strategies fervently, and one of the best parts of the experience was seeing the delight on their faces. This was visceral learning at its best!"
"My class had a chance to role-play and experience social issues such as discrimination, immigration, and injustice that are still relevant today. This was ingenious!"
Hazel Knight
Social Studies Teacher
"My eighth graders practiced critical thinking in a collaborative context and were put in a powerful position where they had to ask questions instead of providing answers."
Margaret Dossi
English Teacher
"My class is still raving about the experience, with many admitting they were initially skeptical. They found it incredibly refreshing to be a part of the "action" they learned about in class. I wholeheartedly recommend Live in Theater."
Jay Taweter
Social Studies and History Teacher

"The Pinkertonian Mystery is a real winner. Everybody learns a lot about crime and history, too, and, of course, you get a chance to smash an international jewel theft ring and go after the notorious El Diablo.
The best thing about the play is that Live in Theater producer/writer Carlo D'Amore did NOT write this as a children's play. It is just as fascinating to parents as it is to kids!"
History News Network

"The Trial of Typhoid Mary 1915 is a fascinating, educational, and emotionally moving experience. This theatre company gives her back her humanity and the compassion she did not receive from her fellow New Yorkers while still alive, and it is a truly beautiful thing. Bravo!"
StageBuddy.com

"In The Trial of Typhoid Mary 1915, we can clearly see why Live in Theater are masters at harnessing the collaborative energy between audience and actors. Well done!"
Theater Is Easy

"Live in Theater's format is simple: set up a conflict, allow the audience to investigate freely, and finally come to a resolution. One reason this format works well is that it encourages a true sense of play…yes, even among grown-ups!"
Off Off Online
Not seeing what you're looking for?
Let's get in touch and find the perfect show or workshop for you.